After ten years of its establishment, İzmir Mediterranean Academy is being reconstructed with an approach renewing and tightening its relationship within the Mediterranean, developing collaborations, striving to include partners from various geographies, prioritising interdisciplinary works, adopting multilingual, participatory, questioning, criticizing and innovative methods.
With this aim, we are preparing an event program hosting people who have settled in recent years in İzmir, which became a destination for intellectual migration. The talk series titled "I'm new to İzmir and…" will take place twice a month on tuesday evenings in the new building of the Academy in Kemeraltı. In these talks, we will listen to the experiences of new residents of the city and talk about the commons, streets, sea, parks, neighborhood and countryside that bring us together.
We would be grateful to have your participation in our first talk, where we will host Ayça and Simge on Tuesday, September 19, 2023 at 19.00
See you at the Academy!
İzmir Mediterranean Academy
848 Sokak No:46 3. Beyler Kemeraltı
To follow the the program:
www.izmeda.org / instagram: izmir_akdeniz_akademisi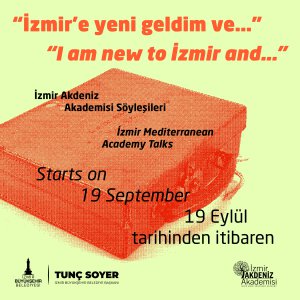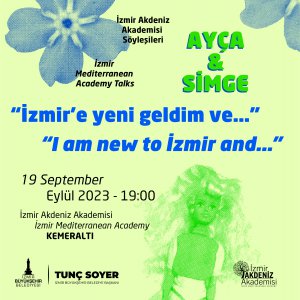 ---