It has been 10 years since the Izmir Mediterranean Academy was founded. In the intervening time, both Izmir and the Mediterranean have undergone and are still undergoing considerable change.
While closely monitoring and interpreting this transformation, the Izmir Mediterranean Academy itself continues to evolve and change.
In the meantime, it has clearly emerged that Izmir has become a destination also for intellectual migration, a city where people with a desire to create and produce settle, or even take refuge. İzmir was a city where originated some of the grand narratives that gave birth to the founding myths of the Aegean and the Mediterranean, and even the world; a city through which passed the Eastern and Western trade routes which extended across the entire length of the Mediterranean over a considerably long period of time; a city where fertile lands and the mountains and the sea, and art and richness are all intertwined; where migrations flow in and from all directions, and where all kinds of diversities can exist.
Today Izmir is a city where different views can be expressed side by side in an atmosphere of open debate while continuing their exploration and questioning. Although it is not free of the economic, ecological, and humanitarian problems of big cities, Izmir is nonetheless a city that never ceases to look for ways of solving every problem through communing. This is precisely why we are now able to witness how contemporary expressions find opportunities of representation in the Ancient Agora, one of the symbols of life in Izmir that is becoming increasingly visible today.
A large team worked together for a long time to imagine Izmir's shoreline as an integral part of the lives of Izmir residents and to offer suggestions. While imagining the sea as being at the very center of life in the city, they came up with the motto, "Take Izmir to the Mediterranean and let the Mediterranean flow into Izmir". The mission of the Izmir Mediterranean Academy can still be summarized with this same sentence.
While Izmir strives to render the ties between its past and present more legible, the relations it will renew and tighten with the Mediterranean will doubtless play a determining role.
Of all the seas in the world, the Mediterranean is perhaps the most desired; a microcosm whose stories, whose wealth and poverty, wars and civilizations, catastrophes and miracles, heroes and victims all intermingle. While on the one hand it continues to give us all lessons with its history, on the other, it presents a chaotic theater of disaster that seems to be unsolvable and often threatens the lives and wrings the hearts of all humans, and, indirectly, all living creatures on earth. The problems of the Mediterranean and the methods and solutions it will find as it solves them will shed light on everyone's future.
It is precisely on such grounds that the Izmir Mediterranean Academy is being restructured.
This restructuring is shaped around certain basic precepts that have gained clarity within a participatory process, which the Izmir Metropolitan Municipality has embraced as its way of working:
. Nurturing and cultivating intellectual capital within and around its own organization in the decision-making process while making use of the resources of the Izmir Metropolitan Municipality,
. Ensuring the broadest participation of parties from all segments of public, civil, and private life in Izmir in all areas in which the Academy operates,
. Preparing a favorable environment for the emergence of new ideas and research on Izmir and the Mediterranean,
. When developing collaborations, expanding efforts to include partners from Europe and primarily the Mediterranean, but also from around the world,
. Emphasizing interdisciplinary work by taking into consideration the cross-fertilization between various disciplines of science and art,
. When carrying out any sort of research or project, envisaging from the outset the innovative means of communication that will help deliver the results and outputs to communities,
. With the awareness that the Mediterranean is a sea of languages, conducting all activities with multilingualism in mind, starting with Turkish and English,
. Regarding the research and education dimension as a sine qua non in any kind of activity or project,
. Using participatory thinking, deliberation, and decision-making methods in all processes, starting with the Academy team and the Board,
. Striving in any work or action to continue reimagining Izmir and the Mediterranean while maintaining the tradition peculiar to them of creating together and having fun together.
As the Izmir Mediterranean Academy enters its second decade, those of us who are to be part of this challenging and exhilarating process are well aware that an inquisitive, critical, and innovative approach is necessary for the precepts I have listed above to be fulfilled.
We are setting out to say something that shows that through our work we stand up for Izmir, the Mediterranean, nature and the human being, and, of course, the future of the earth.
Serhan Ada
August 2023
IZMIR MEDITERRANEAN ACADEMY MANIFEST -2012
In today's world, the economies compete with one another through big cities. For that reason, management of big cities not only give service to their citizens, but also undertake leading role of their cities in competing in the field of economy. Thus, the variety of function has been reflected to the local government law of Turkiye.
Izmir contributes to the globalisation and transition to information society being one of the biggest 130 cities in the world. Within that period, Izmir structures both itself and its hinterland as a urban zone.
Having a peculiar place in democracy history of Turkiye, Izmir treats in accordance with the democratic tradition in forming new function of city management. There is a communion between Izmir public and opinion leaders that Izmir needs to leap forward in economy and life quality and Izmir has the potential and position to make the progress.
Izmir Metropolitan Municipality has determined the city vision which will provide the peak in a democratic period.  In Culture and Art Workshop gathered in 24th October 2009, a progress vision with three bases have been established with the attendance of scientists, and artists who are Izmir citizens and Izmir lovers. The first one is Izmir to have the characteristics of design and innovation for having a more advanced place in world economy business, second is to reach the goal open to abroad and focusing a network of relationship formed between Mediterranean big cities. Third is to apply the vision in a management mentality which is democratic and has participative practices and respectful to human dignity.
It is essential to make long term effort for all public regions in order to make this vision come alive. There come out the necessity of long term institutionalizaiton which can undertake the intellectual and organizational load for the vision. A consensus has been reached by the Metropolitan Municipality Consultancy mechanisms that "Izmir Mediterranean Academy" can be the institution and execution has been carried into.
Izmir Mediterranean Academy has basically two functions. The first is that is an institution of idea. On that sense, it will develop the strategies which will actualise the vision, in this way it will broaden Izmir's horizon, the works will not be confined in routines but will be open to continuous innovation and contribute with sharers for the intellectual capasity to improve Izmir's vision.
The second primary function of Izmir Mediterranean Academy is to create a platform where sharers will interact with each other, where functions that they undertake in realizing vision will be determined, where application promises will be given. Its being an institution which will realize both of the functions makes it authentic.
Rather than being an unwieldy institution which has large staffs, which generates its thoughts by itself, which makes researches by itself, which tries to carry out solutions by itself, that is, which makes the works by itself, It has to have a flexible and innovative mentality, which triggers capacities of Izmir and Izmir lovers, which brings them together, which encourages them to do, which provides their commitment to functions.
This institution capacity and commitment must accomplish organization which has a high skeleton crew, which can widen, narrow, and improve partnerships not with hierarchic division of work but according to the work it has taken, which can utilize the power and creativity of the horizontal relations.
When the Academy's area of activity is defined with the referral to Izmir's vision, a wide area comes up. It cannot be expected from The Academy to operate in all areas. Therefore, it is expected to operate in a narrower area as an eclectic. After succeeding in certain areas, it will transfer this function to NGO's or other institutions; it will also start being a Pioneer in a new area.
At the starting stage, it was decided that the Academy would give priority to three subjects. First of them is to handle history of Izmir again with the perspective of its being a Mediterranean city. When you develop a vision to a city, the history must be written again for this vision to be able to gain profoundness. This is basically an academic operation. Researches will be made, international meetings, workshops, competitions will be held, exhibitions will be opened.  Izmir Metropolitan Municipality will activate Ahmet Piristina City Museum. This operation will be a function which it will maintain throughout all its life.
 Improving design activity has been given priority on the vision of being design and innovation city within academy operations. The main reason of this is that Izmir has an improvement potential of design demand in Izmir and also there are improved departments related to design in the universities in Izmir. After this decision was taken, a Design Forum with broad participation was held in Izmir on 31st May 2011. Roles that different actors would undertake in Izmir's becoming a design city were defined. Izmir Metropolitan Municipality will use its own authority to improve the people of Izmir's living awareness in designed environments and also will provide the use of opportunities of Izmir Fair on displaying design activities.
The third area on which Academy activities would focus was chosen as realizing detailed programming which will provide Izmir's development as sustainable city. This includes a wide range of area from founding an ecological village to disposing of solid waste, to purify waste water, to constructing buildings whose carbon consumption is reduced, to food safety, to organic agriculture. These activities will be realized by paying special attention particularly to partnership which will be improved with international institutions especially with Mediterranean cities.
After the Academy began operating from such starting point, while it will improve its organization, vary its activities, it will also be open to experimentality, will improve its organization by leaning to evaluating results taken.
Mediterranean Academy chose culture and art areas which will have an indispensible place in Izmir's future vision as the fourth priority area according to strategic priorities determined in Culture Workshop which was held in 2009 when the foundation was laid. Academy has aimed at playing the role culture industry deserved in the city's economical and social development by taking culture, education, including information, with their largest definitions, and aimed at making "Creative Izmir" concept reality by providing cultural activities' being in the center of the lives of the people of Izmir. When carrying out the Works in this area, the Academy supervises and encourages participation of all the people of the city especially children, youngsters and women into the cultural life and on the other hand, it will try to root cultural governance, which will be created with contributions and the dialog of the institutions of central administration in the city, local authority, non-governmental organizations, and the artists, between the city practices.
Mediterranean Academy will try to play a pioneer role in forming a "Mediterranean cultural network" within the interaction of Izmir with the cities and cultural attempts which contribute to Mediterranean's cultural mobilism in all cultural and art Project and activities.
IZMIR MEDITERRANEAN ACADEMY BOARD
EMPLOYEES OF ACADEMY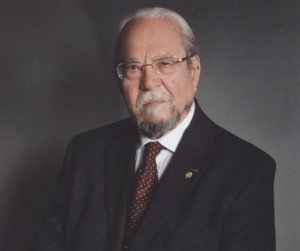 Prof. Dr. Halil INALCIK
Bilkent University Academic Member
Historian
Mediterranean Academy Founding Honorary President and Science Board Member
www.inalcik.com
İnalcık was born in Istanbul in 1917 and he is one of the prominent names of the Turkish historiography. He graduated from Ankara University Language, History and Geography Faculty in 1940. He started working as an assistant in the department of Contemporary History of the same faculty and he completed his doctorate with the thesis titled "Reforms and Bulgarian Problem" in two years.
He became a professor in 1952 and İNALCIK lectured in Language, History and Geography Faculty and Faculty of Political Sciences between 1956 and 1972. When he retired in 1972, he was invited to Chicago University. He lectured as a professor in the History Department of the University for 11 years between 1972 and 1983.
He was chosen as member of Turkish, Serbian, American, English and Albanian Academies. He received many awards including Repuclic of Turkey Ministry of Foreign Affairs Distinguished Service Medal, Presidency Culture and Art Grand Award, Ministry of Culture Art and Culture Grand Award and also Grand National Assembly of Turkey Grand Award. He has been working at Bilkent University since 1993.
Prof. Dr. İlhan TEKELİ
Middle East Technical University Academic Member
Urban and Regional Planner, Social Scientist
Izmir Metropolitan Municipality Mayor Consultant
Mediterranean Academy Founding Honorary President, Science Board and Management Board Member
He was born in Izmir, in 1937. He completed his primary and secondary education in Izmir. He graduated from Istanbul Technical University Constructional Engineering Department.
He got master's degree in City and Regional Planning at Middle East Technical University in 1964 and at Pennsylvania University in 1966. He did his doctorate in City Planning at Istanbul Technical University in 1968. He lectured at different universities abroad as a guest professor. He was a member of advisory committees in many municipalities and institutions.
He is the founder and member of Executive Committee of World Academy for Local Government and Democracy(WALD). He is the founder-head of Turkey Economic and Social History Foundation. He was a member of General Board of Council of Higher Education between 2004 and 2008.
TEKELİ has more than 50 books, more than 400 articles and conference notifications in different languages. He won many awards in the field of Social Sciences. He has lots of works in the fields of city and regional planning, planning theory, macro geography, migration geography and political behavior, local governments' theory and history in Turkey, urbanization and urban policy, economic policy, economic history of Turkey, city and society history since 1964.